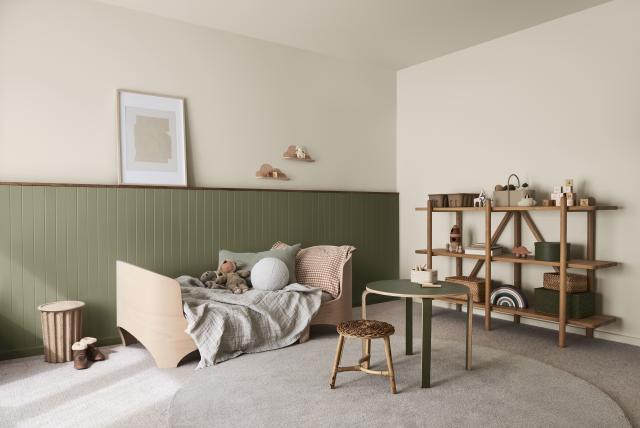 Inviting warmth and a particular energy into your home can be a crucial first step to successfully transitioning to indoor living and entertaining during the winter months. To help you get there, why
not integrate the latest colour trends to establish a welcoming, yet intimate atmosphere for all to enjoy.
Dulux's Restore palette – one of three colour palettes from the 2022 Dulux Colour Forecast – is made up of the rich, soothing colours of Dulux New Penny, Hog Bristle Half, Black Caviar and Natural Flora (amongst others), which evoke a feeling of comfort and warmth, often much-needed to combat the winter blues that can accompany a seasonal change.
Dulux colour and communications manager Andrea Lucena-Orr says that the Restore palette is perfect for a winter makeover as the colours will be easy to use in most spaces due to their natural appeal.
"Dulux Natural Flora and Hog Bristle Half have a warmth that will create a comforting and restful space, perfect for bedrooms. The deeper colours of Dulux Ferry, Finnegan and Oboe D'Amore are well
suited as accents for communal areas, like the living room or entry, to help liven up these high-traffic spaces," she says.
"To add a scheme, the more muted, neutral colours of Dulux Rice Crop, Stowe White, Opononi Double, Tranquil Retreat and Winter Terrace will be incredibly popular across all interiors this season as they sit back and shouldn't create a sense of feeling overwhelmed."
To showcase these idyllic hues in the home environment, Dulux colour forecaster and stylist Bree Leech undertook a multi-room makeover in a renovated '80s brick home, integrating colours from the
Restore palette.
"We chose to make over three rooms – a toddler's bedroom and two entry areas – showing the versatility of the palette to energise different interior spaces," Leech says.
One room in two ways, the toddler's room was completely reinvigorated with the option of New Penny or Natural Flora as the feature colour, paired with Hog Bristle Half, a warm white to help soften the space.
"Both accent colours add interest and make the bedroom more inspiring for a young child but are also colours that they can keep as they grow," Leech says.
With the two entries, the intention was to make both spaces feel more inviting, sophisticated and memorable for the homeowners as well as first time or returning guests.
"Using the gorgeous Dulux Ferry on the ceiling in the main entry and Finnegan as an accent in the secondary, we paired each with striking art and handmade ceramics to give both rooms more character."
According to Lucena-Orr, due to the naturality of these hues, there will be many colours that resonate with both first-time decorators and long-time colour lovers.
"My advice is to just have a go! Not much can go wrong using this gorgeous, soothing and relaxed palette. Whether you're transforming a bedroom, living space or hallway/entry, it's amazing how a change
in colour gives you a whole new perspective on the space," LucenaOrr says.