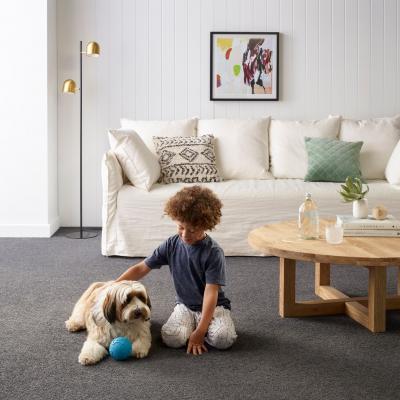 Pet ownership comes with numerous considerations, many of which relate to the interior and exterior upkeep of your home says Carpet Court ambassador, Darren Palmer.
From plush living rooms, restful bedrooms through to townhouse courtyards, Carpet Court's new pet proof flooring options allow pet parents to welcome their fur-babies into every part of their home.
"In the past, the question of 'which flooring is most suitable for pets' would have had a limited answer," says Darren.
"Now, there are innovative solutions such as stain resistant carpets, water and odour resistant underlay, hybrid floors and outdoor synthetic grass that give home owners the freedom to inject style into their home while allowing for life's little mishaps caused by pets.
"If you love the look and luxurious feel underfoot of carpet, you cannot go past Carpet Court's new UltraPet ranges comprising of ten colours and three pile types – Birman, Basenji and Akita. Created with cutting-edge technology, these ranges come with a 15-year guarantee for colourfastness, durability, and stain resistance. This can be extended to 25 years when you pair with the UltraPet Underlay. Best of all, pet 'potty' mishaps can be cleaned easily using cold water given the carpets repel liquids from penetrating the fibres."
Darren recommends that your pet's fur colour should factor into your colour choice. "Light fur will show up on dark floors, just as dark hair will show on light floors. Something in the middle of the spectrum will have the best chance of disguising individual hairs, though regular vacuuming is always recommended," says Darren.
In a robust household, using the right carpet underlay is a must. "Carpet Court's new UltraPet Carpet Underlay has been engineered to protect against common household spills and pet stains thanks to its protective barrier, StainShield. It is also treated with a proven antimicrobial which helps to prevent lingering odours, mould, mildew and dust mites – providing hygienic freshness for your home."
For a more traditional approach to pet-friendly floors Darren recommends hard flooring. "Tiles and timber can be quite unforgiving in a household with pets; tiles absorb the cold (which no pet or human likes!), and timber, although the most natural of the bunch, requires a degree of care to maintain.
"Carpet Court's Hybrid flooring, Stainmaster™ PetProtect, is well suited to withstand the wear and tear from furry family members. With eight contemporary colours, it is designed to resist pet stains, odours and scratching, as well as has anti-skid technology," he says.
For pet owners that have a love of greenery but little space to build their desired garden, or have issues with their best friends burrowing, artificial grass is the ideal solution for outdoor areas.
Homeowners no longer have to sacrifice style for durability thanks to Carpet Court's fetching new pet-friendly ranges.