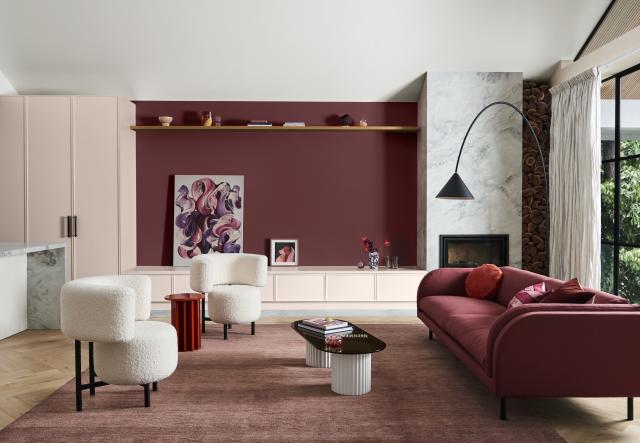 As the weather cools and we return to living and entertaining indoors, our interiors will play a crucial role in enriching the senses and providing comfort and connection in the home.
Dulux colour and communications manager Andrea Lucena-Orr says colour can be the key to elevating your home interior to create a fresh and inviting atmosphere for all to enjoy.
The Flourish palette – one of three colour palettes from the 2022 Dulux Colour Forecast – harmoniously blends the warm, natural shades of Dulux Basic Coral and White Dune Quarter with the bold, rich tones of Dulux Murray Red and Discretion, to create a welcoming and comforting space where people can relax and retreat to over the cooler autumn months.
"There are some really beautiful colours in the Flourish palette. I feel Dulux Clay Pipe Half will delightfully surprise people with its soft warm putty undertones and versatility, which makes it easy to use alongside many other colours, like the decadent Dulux Murray Red," Lucena-Orr says.
"I also think Dulux White Dune Quarter will resonate with home enthusiasts as it's a contemporary, slightly warm white that suits both traditional and modern aesthetics."
To help showcase the palette and inspire the use of colour in interiors, Dulux colour forecaster and stylist Bree Leech undertook a makeover in an open plan living and dining space using the Flourish palette.
Used primarily for family time but also entertaining, Leech incorporated soft pinks, warm whites and rich reds from the palette to help build on the room's existing character and features.
"The space is a beautiful, light-filled modern extension in a family home with great architectural details – we wanted to showcase this by using the natural, muted tones from the Flourish palette on the wall as a tonal backdrop to the stronger accent colour and then punctuate the interior with bold, daring colours in the décor to create a more distinct look and feel," Leech says.
"The side table and cabinet feature Dulux Red Terra, which works with other red moments throughout to connect the adjoining areas.
"Adding blue and black accents also helps break up all of the tonality within the room, providing the dining area with a related identity to the open plan living area."
When applying colours from the Dulux Colour Forecast, Leech says to start with a tonal palette to build from and connect your main furniture pieces.
"To add an edge to the interior, select some smaller statement pieces that feature bold colours and interesting finishes, such as natural stone and coloured glass, to provide contrast, however, still compliment and harmonise your overall colour scheme," Leech says.
"Highlight bold colour in artwork and soft furnishings, and don't forget to add versatility to the scheme with some additional hues, the way we have, by adding blue, black and cream."
Warmth can also be created using texture. Leech recommends adding soft furnishings with textured fabric and tactile finishes in the Flourish palette, to help bring a polished and customised look to the space – think dining room seating, living room sofas and cushions, or even statement occasional chairs.
According to Lucena-Orr, there are so many colour and scheming options in the Flourish palette, each creating a dramatically different effect, so don't be afraid to explore the range and test out different concepts before you commit to a look.
"If you want a more contrasting ambiance, look at a warmer main colour and simply use a cool combination of décor items in colours such as Dulux Kenepuru Sound, Benang or Dark Door. If you want to create a much moodier space, reverse the scheme and use these bold hues as the main colour(s) and add the warmth in your accents to balance.
"The old saying 'change is as good as a holiday' comes to mind here.
"Selecting any one of these Flourish colours can really add to the emotive feeling of a room and make you fall in love with your home all over again.
"Start with one shade and go from there – you'd be surprised at what a difference a colour transformation can make!"
BREAKOUT:
Autumn colour tips from Dulux's colour expert Andrea Lucena-Orr
• Autumn palettes tend to consist of warm hues – both neutral and rich tones – and you can layer beautiful
variations of these colours to add depth to your space.
• Consider the intent of the space: softer warm hues of pinks and earthy reds can create a light and cosy atmosphere whilst selecting the deeper hues of blues and greens can create a calm and moody space.
• Ensure you love the colour(s) before you make your final decision. As we know, colours can differ greatly due to lighting and surrounding colour, so make sure you sample your colours before you commit to a purchase.
• If you want to replicate the Flourish palette, I recommend testing a couple of key colours you initially gravitated
towards and leave them up on your walls for two to three days to ensure the colour(s) work in your space and under different lighting conditions, both natural and artificial. You can also add some other colours from the palette for furnishings and décor items.
• For an autumnal bedroom look, bring more depth into the scheme by adding the gorgeous Dulux Murray Red to your
bedroom walls with Clay Pipe Half and Discretion tones asninspiration for your bedlinen.