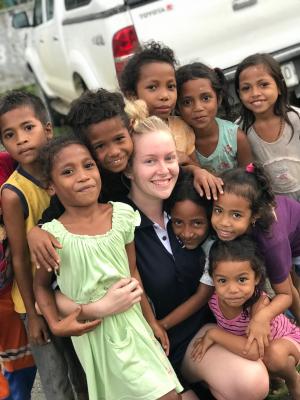 Glen McKeeman, principal of Christian College Geelong, believes that the most powerful learning moments come from authentic experiences, such as the prefects' 2019 trip to Viqueque.
Tess O'Neill, college captain 2019 says about the trip: "On one of our last nights in Viqueque, a few of us agreed that sitting around with our new Timorese friends and singing songs with a guitar for hours was genuinely the happiest moment of our lives. It was a truly life-changing experience."
For the past seven years, the college has been part of 'Leading the Learning That Matters', a multi-year collaboration between the Harvard Graduate School of Education's Project Zero team and Independent Schools Victoria (ISV).
One area of focus is examining how young people can develop capacity to understand themselves, as well as others living in contexts different to their own.
"Authentic experience is vital here. It puts the learner at the centre of the process and promotes direct engagement and rich learning," says Mr McKeeman. "Creating authentic experiences for students to build that capacity is a crucial part of Christian College's educational perspective.
In the early learning years, the Bush Kinder and Bush Prep programs provide access to spaces that allow children to be immersed in sensory, visual and aural opportunities in nature.
In the college's popular languages programs, specialist language and native speakers teach Japanese from K-12 and Indonesian from years 5-12. Underpinning that are the long-standing relationships with sister schools – Naga High School in Iwade, Japan (30+ years) and SMA Negeri 2 in Mataram, Lombok (25+ years).
Students are offered short- and long-term exchanges in Indonesia and Japan, staying with local families and living their daily routines. Reciprocal visits are made by students from Naga High, and Christian College graduates are also offered language assistant exchanges, working with students of English at Naga High and Japanese at Christian College.
Mr McKeeman said one of the unique offerings is the Transformation Program for Year 9 students, which includes a half term living and working at the college's Back Creek Farm.
"They also spend time in our Back Creek Cafe in Meredith, where they live the 'paddock to plate' experience. For the other half-term, students engage themselves in a 'passion project' – designing and implementing a strategy to make a positive change for good."
An extensive range of Instrumental music offerings allows students to develop and showcase their talents – solo and in ensemble.
Christian College Geelong, 18 Burdekin Road, Highton. Inquiries: 5241 1899 or visit www.christiancollege.vic.edu.au