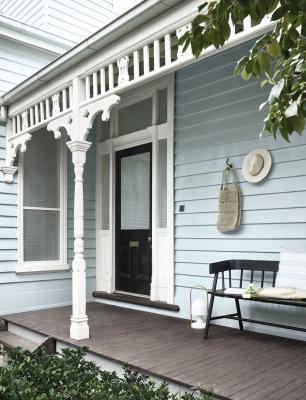 A beautiful exterior sets a welcoming tone for guests – and can also increase your home's value and saleability.
Fortunately, you don't have to spend a fortune to boost your home's curb appeal and bring a less-than-fabulous facade right up to date.
According to Dulux colour expert Andrea Lucena-Orr, paint can do extraordinary things for the look of your home.
"It's quick, DIY-friendly and can save you a huge amount on expensive exterior upgrades," she says.
"Colour is transformative; use it to give a tired facade an instant facelift, highlight your home's best features or downplay the less desirable ones."
All you need to get started are the right tools and a couple of free weekends, depending on the size of your facade and how much prep work is required.
"Sprusing up your veranda and facade are generally bigger DIY jobs than re-painting your interior as there are several elements involved, such as wall, decking and window frames, but as your exterior is the first thing visitors see, it's well worth the effort," says Lucena-Orr.
Start by choosing a colour scheme.
"As a rule of thumb, a palette of either three or four colours works best for exteriors," she says.
"Greys have been on-trend for a while, but they're far from your only option. Earthy blues-greys, greens and greiges [a blend of grey and beige] are emerging as key neutrals that work beautifully with natural materials such as timber and stone – perfect for outdoors.
"Contrasts are particularly effective on exteriors. Opt for charcoal or a dark neutral for window trims and fencing and contrast it with crisp white walls. Or vice versa; select a deep shade for vertical surfaces and play up the contrast with white detailing.
A tonal look is also gaining traction; if you have a contemporary home, consider using different shades of one or two neutrals across walls, fences, the front door and outdoor accessories such as planters."
Or create a wow factor with brights.
"A focal point draws the eye and adds personality to your exterior," Lucena-Orr says.
"Painting your front door in a bold hue, like a striking aqua such as Dulux Oasis Spring, is a great way to achieve this – plus it sets a relaxed, inviting tone."
When choosing an exterior palette, it's important to factor in your homes's architecture and the colours in your surrounds to create a sense of harmony.
Consider the colours in your garden as well as the colour on your roof, driveway and decorative features such as tiles.
And while your at it, why not use paint to refresh other outdoor elements such as bollard lights, planters benches, the front fence and letterbox for a cohesive look.
Verandah refresh DIY steps
1: Gather your painting supplies and ensure the surface has been properly prepared 9sanded and washed) prior to starting to paint. Follow the label on the can for more information.
2: Once the surface is dry, start by cutting in around the edges and hard to reach areas.
3: Apply paint to the surface using short, horizontal brush strokes.
4: Smooth over the wet painted section with long brush strokes. do no reload the brush when you do this, a few strokes should be enough to sooth the surface.
5: Repeat this process for the second coat. allow to dry, then give the surface a light sand with 400grit sandpaper and repeat for a second coat.
6: If painting bare timber a third coat will need to be applied.
PRO TIP: Nothing evokes richness and warmth like dark colours. These schemes are always popular, making them an inspired choice for wide variety of house styles.
Front door DIY steps
1: Gather your painting supplies as well as your chosen colour 9s) and Dulux 1Step Prep.
2: After sanding down the surface, apply one coat of Dulux 1Step Prep.
3: Start painting by cutting in around the edges of the door using your chosen colour.
4: Apply colour to the surface using short, horizontal brush strokes.
5: Once you've completed an area, while the paint is still wet, lightly smooth over the painted section with long brush strokes – but don't overdo or reload the brush – a few brush strokes will smooth the surface.