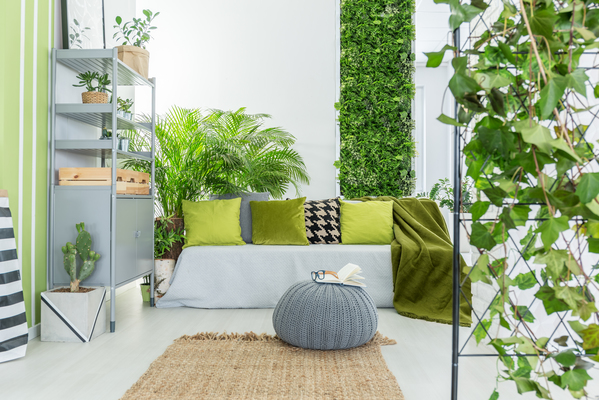 Green up your alfresco living area, small deck or balcony with a vertical garden.
Vertical gardens, or green walls, not only look good, they can also make your home healthier as they absorb carbon dioxide and cool ambient temperatures.
Vertical gardens also have a humidifying effect and are known to capture toxic gases from deodorants, carpet, paint, furniture and building materials.
Green walls can also reduce noise, capture water run-off and increase biodiversity.
A vertical garden can even become a source of food, with herbs particularly suited to pots and tubs.
You can hire a professional horticulturalist to advise on and install a vertical garden at your property or there are a host of DIY ideas online.
Gardendesign.com, has some simple vertical gardening ideas you can use to add green to your space:
Mount a staghorn fern and hang it as a focal point
Arrange wall planters in your kitchen for growing herbs or micro greens
Build a terracotta planter wall on your fence
Create your own vertical jungle with a living wall kit
Use wrought iron flower pot rings to elevate planters on your porch or balcony
Fill a few wall planters with trailing plants for a waterfall of greenery
It is a good idea to invest in an automated irrigation system with a timer to ensure the plants never dry out. The amount of water needed depends on what you'll be growing – if it's an edible garden, you'll be fertilising and watering it a lot more.
Plants that work well in a vertical garden according to choice.com.au include:
bromeliads
fuschia
agapanthus
ferns
anthuriums
begonia
callisia fragrans
chlorophytum
crassula
impatiens
peperomia
plectranthus
spathiphyllum
tradescantia