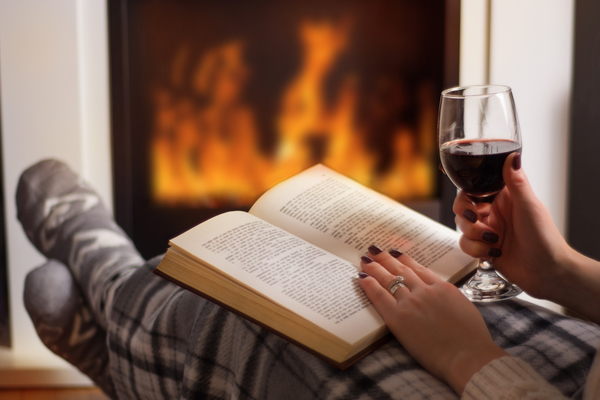 Carole Levy
The time for planting veg for spring is mostly behind us. There might be a bit of morning fog about the place. Kids pack jumpers in school bags. Leaves crunch.
Yep, it's autumn: the season of mists and mellow fruitfulness, to borrow from Keats. Every year, autumn taps into our atavistic need for fire, and can raise questions about making the best use of it in heating our homes.
It's the season we're in right now that can make us either appreciate or bemoan our home heating source, in terms of effectiveness and saving energy bucks.
If you've been thinking about what type of heating to install in your new home or extension, or maybe fit into the 'bemoan' crew, there are people way more knowledgeable than us to hopefully steer us right.
The Natural Gas Fireplace
Comfy rug. Pillowy cushion behind head. Cat purring in lap, or dog lying lovingly beside you. Warm flames casting a gentle glow. That's the bullseye of natural gas fireplaces, but they have other benefits, too.
1. The heat is constant and you're in control of how hot.
2. It's maintained by those in the know that they're 25 per cent cheaper to run, as well as being cheaper to install. Tick and tick.
3. Heat is instant – at the flick of a switch or using the remote.
4. They're kid-friendly – and there's no mess. Hello? No one needs or wants or deserves more mess in their lives.
5. No fumes or particles are released into the air – that's got to be better for our environment, in-home and outdoors.
6. They look so good – whether contemporary-chic or traditional. They're cleverly and stylishly designed these days to complement many décor approaches.
They set a mood, mellow – like poetic autumn – even when it's wintertime.
The Wood Heater
It would be the rare person who didn't love the smell, the particular quality of warmth, and the nostalgic pull of a wood-burning fire.
We're not talking about an open fireplace here, as gorgeous and magnetic as that is. There's really nothing like bare flames licking crackling wood to create supreme ambience, maximum dreaminess, utter cosiness.
But unless you live in rural areas where firewood can be much cheaper, open fireplaces cost too much to run, are way less efficient at warming spaces, and have the bugbears of sparks and a fair bit of mess.
But a good wood heater is a different beast. Some can heat 30 squares for starters, and what a fine start that is.
Here are other advantages according to those experts again.
1. You can install one pretty well anywhere in the home, as long as a vent pipe can be run outside.
2. Wood heaters scoff at power outages. If they have fans for moving heat around, they'll cut out, but the radiant heat kicks on like a champ.
3. They have an organic quality of heat and an aromatic punch similar to an open fireplace. Burn a few sticks of apple wood and feed the soul. Toss in some eucalyptus wood and you're in the Aussie bush, minus the kookaburras.
4. They look good. Rustic, contemporary, heritage-look, French provincial, large, small, slim, squat, built-in, and freestanding – there's a style to satisfy every décor whim.
The Outdoor Fireplace
The ultimate mood-setter when entertaining. Rustic brick chimney surrounds, ultra-sleek built-in 'windows of fire', potbelly stoves, wood- or gas-fired, posh design statements, modest fire pits: they all ooze sensuality, conviviality, and brazen attention-seeking.
To make the most of autumnal crispness, or even to revel in snugness in winter's chill, an outdoor fireplace is unbeatable for folks who love toasting marshmallows with the kids; or bringing out the full bloom of a bottle of red, placed the right warming distance from the fire, to pour for friends; or just feeding it wood, satisfying caveman instincts.
So what are some additional benefits?
1. With outdoor fireplaces showing no signs of waning in market approval, they can raise your home's resale value, just like excellent landscaping does.
2. They make year-round outdoor entertaining a possibility, and give families an excuse to get outside even when the weather is a bit grim.
3. Kids can get their friends around for a winter sleepover on the deck – and out of your hair.
4. People love fire. 'Build one and they will come' isn't just a movie tag.
5. They're generally easy to install, contributing to affordability.