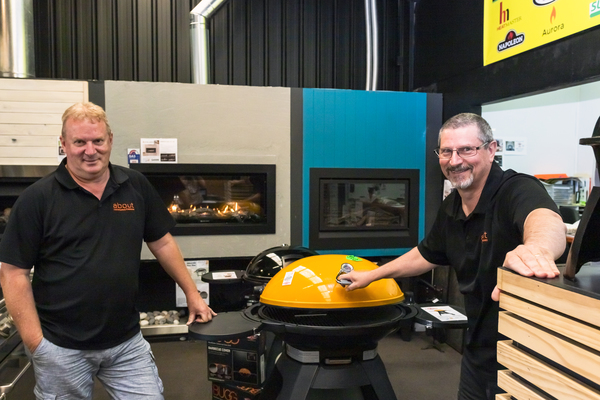 IF THERE is one thing Bruce Dargavel and Michael Craft know, it's how to barbeque in style and get those taste buds working overtime.
The about barbeques & fireplaces owners stock a huge range of high-quality products to sizzle a snag, flame grill a burger or even slow cook your favourite cut of meat.
"Sure you can purchase popular brands of fires or barbeques, but at about you purchase the very best quality brands," Bruce says.
"But more importantly, we listen to what you want and then match you to the best solution.
"The most common thing we hear is women saying they no longer want to cook meats inside and have the smells hang around the kitchen.
"So they're getting a barbecue for cooking steak or fish, roasting, a home-made pizza night or whipping up a stir fry on the side burner."
And Bruce and Mike are all to happy to show you how to get there.
"We strive to treat all our customers with respect, have a bit of fun and teach them why we recommend what we recommend," Bruce says.
"Plus we love talking cooking and teaching you how to cook an awesome BBQ!"
The Torquay store stocks the best built-in barbecues, mobile trolleys, ceramic low and slow cookers, alfresco kitchens and now some amazing off-set smokers direct from the USA.
"The sales guys are trained in all aspects of getting the most out of your preferred barbecue method by the manufacturers," Bruce says.
About is the Premium BeefEater dealer for Geelong and the Surf Coast and also stocks Gasmate, Napolean and the incredible Euro Alfresco Kitchens.
"We have numerous options to suit your every outdoor cooking desire," Bruce says.
On display and operating in the Torquay showroom is a big range of BeefEater BUGG Portable Gas Grills – an amazingly affordable and flexible BBQ to suit most applications.
"The BUGG is the most powerful, controllable, durable and versatile mobile barbecue on the market, and it's an Australian design," Bruce says.
For punters wanting to try out low-and-slow charcoal-style cooking, which is growing in popularity, about is the exclusive dealer of the industry-leading Primo Ceramic Grills from the USA.
"And we have recently introduced the world-leading Oklahoma Joe's and Char-Broil ranges of smokers and barbecues," Bruce says.
"We are very excited about these and what you can do with them. You can roast, smoke and BBQ all from one grill using natural charcoal – the flavour just has to be experienced."
Bruce and Mike are now sponsoring a competition barbeque team competing around the country.
"Porky and the Brine are a local Geelong team and compete in national barbecue comps. If ever you get the opportunity to go to a BBQ cooking competition do it," Bruce says.
"You get to see how the Pitmasters cook, and ask some questions, plus you get to sample a lot of food. Trust me, you will not be disappointed!"
The team at about barbeques & fireplaces also have plenty of advice to help locals get the best out of their equipment.
Whether its fuel type, technique or how to best cook anything from the humble snag to a pizza, brisket or roast, they have the tips to light up your outdoor cooking world.
And as their store name suggests, Bruce and Mike know fireplaces too.
About are exclusive dealers of the European range of KALFIRE Gas Log Fires and also have Kalora and Heatmaster units.
"These are high-efficiency gas units that only need a PVC flue, making installation a much cheaper option," Bruce says.
"No longer are you limited to a heater only being installed on an external wall.
"Various flueing options allow you to install the gas log fire virtually anywhere and dramatically increase the impact it has to your room."
About barbeques & fireplaces is open 9am to 5pm Monday to Friday and 10am to 3pm Sat at 31 Baines Cres, Torquay.
And the big news for summer is they have launched 'about AIR' to the group.
"So if you're looking for a simple split system through to a complete home climate solution, come in and chat about our full supply and install service" Bruce says.