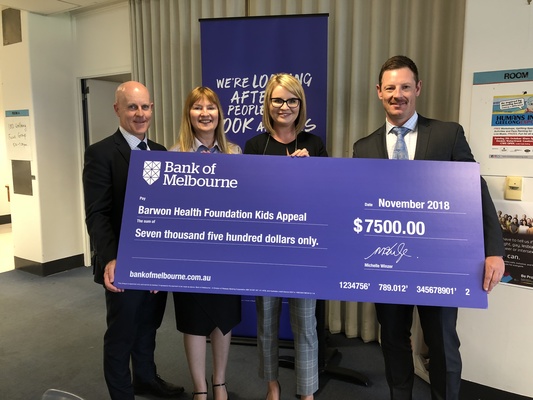 Bank of Melbourne's team in Geelong is helping make banking more accessible for people with hearing disabilities.
Following a successful pilot in its Ballarat branch, the Geelong team has invested in a portable desktop hearing loop at its Westfield branch, so people with hearing aids can interact with staff without needing a quiet space.
A hearing loop is a type of sound system that cuts out unwanted background noise, so relevant sound goes directly into a person's hearing aid.
The investment is the first of its kind for Bank of Melbourne, with customers in the Ballarat branch making regular use of the technology since it was introduced earlier this year. Bank of Melbourne's Regional executive Brendan Grenfell said he's pleased to be leading the charge to introduce technology and training to make banking easier for the hearing impaired.
"Our friendly local teams love providing the very best service to customers, introducing a hearing loop means we can make the banking experience even better for customers with a hearing disability", he said, adding that the success of the pilot could be attributed to training staff on interacting with people who have complex communication needs.
Installing the loop in Bank of Melbourne Ballarat and Geelong followed support from the team at Latrobe Community Health Service, which provides planning and community connection services as a partner in the National Disability Insurance Scheme (NDIS).
"We work alongside people with disability to form and implement their NDIS plans, but we also support mainstream services and organisations to improve the way they welcome people with disability into their environment," Latrobe Community Health Service acting regional manager Loretta Beardmore said.
"It's encouraging to see local traders like Bank of Melbourne Geelong and Ballarat proactively improve their services so people with a disability do not feel excluded," Ms Beardmore said.
The National Disability Insurance Agency (NDIA) opened its national office in Geelong earlier this year, housing 600 staff and making a significant contribution to the local economy.
The NDIA headquarters join the recently-opened WorkSafe site and reinforce Geelong's position as a bustling regional city with a fast-growing population and long-term employment options. The NDIA building showcases accessible facilities and technology like self-opening and closing doors, wide access ramps, and integrated braille signage.
Being inclusive is about making people with disabilities feel comfortable and welcome when accessing facilities or using services. For Bank of Melbourne, technology is only one part of the approach, just as important is creating a culture where people with disability are served in a way that suits their needs.